How to become a driving instructor
To become a driving instructor you will need to take and pass all 3 of the driving instructor qualification tests. This is not an easy task, but with the right training and all the help and support that we will give to you, it is very achievable. From taking the first test you have a maximum of 2 years to complete all 3 tests, it is very possible to complete all 3 tests in 6 months, for most people the average time taken is between 7 and 12 months the training is usually done around your existing work commitments. Also after passing the first 2 tests you have the opportunity of working and earning money on a trainee licence, which also helps you to prepare for the part 3 test. We are one of North Wales only Ordit registered trainers so when you train with us you can be assured that you are being trained correctly for the driving instructor tests.
Why Become a driving instructor ?
What are the benefits ?
Be your own boss- Being your own boss gives you the Ability to give yourself a great work life balance.
Fit your work in around your life.
Choose when to take time off.
Great job satisfaction – helping people work through the challenging yet satisfying process of learning to drive.
Competitive earning – with earning up to £40,000 easily achievable.
Always having a brand new car ( Top sign can be removed for personal use)
Meet lots of new people everyday.
Many opportunities for further qualifications, such as fleet training, trailer training and ADI training.
Please tell me more how I can Become a driving instructor!
How much does it cost to become a driving instructor?
Becoming a driving instructor can be expensive, and there are a few pitfalls which you need to be aware of. You may have heard some of the horror stories about some of the national driving schools. Here at Andrew's Driving School it is in our interest to train you to a high standard and that you pass all 3 parts of the tests. This is because we want you to be one of our franchised instructors.
Our most popular training package is the full 55 hour course which we are currently offering at a discounted price, this course will
Our training is on a pay as you go basis this way you only need to take as much or as little as you need. Currently our hourly rate for driving instructor training is £30 per hour.
Example costs of becoming a driving instructor.
Part one training
Will will provide all the required training materials free  of charge to you when you register with us.
Part 2 training
This takes an average of 15 hours in car training @ £33 per hour = £495
Part 3 training
Part 3 training will be a minimum of 40 hours in car driving
instructor training @ £33 per hour  =                                                        £1320
Total training cost = £1815
As all our training is on a pay as you go basis you will only be paying for the training which you need.
You only have 3 attempts at the part 2 and 3 tests so it is essential that you choose an Ordit registered trainer.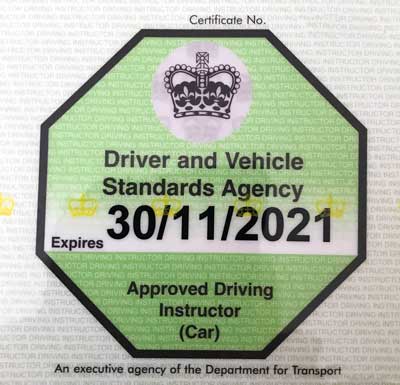 Your Options once you qualify
It is important to us that you receive the very best driving instructor training, that is why we conduct all of our own training. Our trainer not only wants you to pass the driving instructor tests but wants you to be a successful driving instructor that pupils want to learn to drive with.
After you qualify it is your choice what you do , you may either set up on your own or join a franchise, it is our aim that you join our franchise in which we are confident that we provide the best driving school franchise in the UK. This is down to the reputation which we have built by having the best instructors.And with our driving school being so popular our instructors need not travel too far between lessons, which means more income for the instructor. Also with our franchise there is only a 4 week notice period required, so if you decide it's not for you then there is only a 4 week notice period requred. Some of the big national driving schools require a minimum of 12 months notice, and also they are charging around £200, so 12 months notice at that cost is a considerable amount of money.
Our franchise is less than half of that, and with a short notice period it is up to us to keep you happy and give you the amount of work which you require.
Further Information
For more information our instructor trainer would be more than happy to meet up with you for a coffee and a chat, he will explain all about the training and the job. We will also explain your options for a trainee licence, this is so that you can begin teaching pupils for money prior to passing your final exam. We will also explain the registration process, answer any questions you may have and guide you through the application forms. Click here to arrange free no obligation a meeting with our instructor trainer.
For more information on our training program check out this page Instructor Training.